Anything and everything about science, especially astronomy and the cosmos.
NOTE: This blog has migrated to a new address. Please update your favorites link accordingly.
Visit my web site at
TheSpaceWriter.com
for astronomy info, stargazing thoughts, and reviews and recommendations for astronomy-related goodies!
Posting times are
US Eastern Standard Time.
All postings Copyright 2003-2008
C.C. Petersen
Archives
Feeds
Subscribe in a reader







ABOUT ME
I'm a science writer and editor. I work with clients in the observatory and planetarium community, as well as my own book, web, planetarium, and other projects.

Need a writer/editor? Visit my services page for my projects and availability.







Fulldomers!
Seasonal stargazing shows in digital fulldomevideo!
Now available from Loch Ness Productions.








Shopping
Support This Site
Looking for a great gift for someone special?
Visit
THE SPACEWRITER'S GIFT SHOP
(at Amazon.com).


Cool astronomy-themed t-shirts created by TheSpacewriter at TheSpacewriter's Cafepress Shop.




Like space music?
Check out the latest Geodesium album:






A great place to shop online





MY LAST BOOK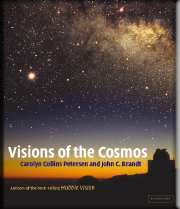 Info about Visions of the Cosmos
Note: The ads you see below and at the bottom of this page are screened for content and many fine companies do appear here. Occasionally ads I don't want DO slip through, particularly for pseudo-science, st*r-naming, ID, and other questionable sites. Please understand that I cannot be held responsible for their content. Do visit them if you wish, but as with all advertising, be logical and use common sense.

Credits
Graphics and design by Ann Stretton © 2001 at
Ann-S-Thesia
Dingbat Fonts:The Dingbatcave
Fine Art:Eyebalm

About the ads here

10.25.2008 This site migrated early in 2008. New entries are here. posted by CCP on 10/25/2008 02:51:00 PM | * |





















8.06.2008 But, I HAVE moved... see previous post. posted by CCP on 8/06/2008 09:16:00 PM | * |





















5.19.2008 Just a reminder to folks, this blog has migrated; see the entry below this one for particulars. posted by CCP on 5/19/2008 07:28:00 PM | * |



















2.24.2008
Moving Day
I've moved this blog to a new WordPress platform and invite you to visit in my flashy new digs at: TheSpacewriter. For those of you who subscribe using a feed, I've changed the feed, too, so please adjust your reader to using the link below.



Subscribe to the new feed in a reader





Come along and let's go explore some more astronomy!


Labels: feed, moving, wordpress

posted by CCP on 2/24/2008 06:27:00 PM | * |



















2.21.2008
Dear Ol' CU
It's always nice to get good news from one's alma mater (instead of the usual begging letters from the development foundation). Where I went to school (University of Colorado), astronomy, planetary science, and space sciences research have always been Big Things. I did my graduate studies while serving on a team that worked with an HST instrument (the Goddard High Resolution Spectrograph), and also did some work on comet images under a Halley Watch grant. One of the folks who I overlapped with at CU is Alan Stern, now Associate Administrator of NASA's Science Mission Directorate, and an old friend. At CU he worked with the Center for Space and Geoscience Policy, before leaving to work at Southwest Research Institute. A number of other missions had CU relationships, including some involving other members of the Laboratory for Atmospheric and Space Physics (where I worked), Joint Institute for Laboratory Astrophysics (I worked there as an undergraduate), and a variety of other research institutes at CU.

Artist concepts of a Naval Observatory Proposal involving CU-Boulder to place a carpet-like radio telescope on the moon to probe the earliest structures in the universe. Image courtesy CU-Boulder, NRL






Suffice to say, I was pleased to see a press release today outlining a pair of projects that NASA and the Naval Research Laboratory has selected for further funding and development that both involve people and institutions at CU. The first is for a space observatory to find Earth-like planets in distant solar systems. The other is for a unique type of low-frequency radio telescope on the far side of the Moon. Astronomers would use it to look for some of the earliest structures in the universe. Both are very worthy projects and I'm pleased to see my home university continue its winning streak in astronomy and space science. (Read more details here.)


Both projects should give undergraduate and graduate students first-hand experience in designing instruments AND doing science, something that attracted me back to graduate school in the first place (lo these many years ago). While CU isn't the only university that gets these grants and makes opportunities available, it has been a leader for many years in this area. I can't think of Duane Physics tower or the LASP building or the JILA towers without remembering all the really smart, really great scientists who came out of those labs and who are making solid scientific contributions today. There are whole new generations of instruments and projects waiting for new generations of student scientists. And that's good news for science and for old alums like me.


Labels: lunar telescopes, NASA, NRL, planetary science, space missions

posted by CCP on 2/21/2008 07:52:00 PM | * |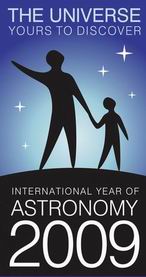 Earth Hour!
Do it for the Planet!




Blog Roll
Planetarium-related
Loch Ness Productions
Purveyors of fine planetarium shows, music, and services.

INTENSELY Good Space Music
from a master in the genre!


My cool astronomy cause:
The Friends of the Griffith Observatory.
Join up today!
Science
The sites below belong to space and astronomy enthusiasts. I make every effort to check them and make sure they are still appropriate. However, I am not responsible for their content, nor do I endorse any of it by simply linking to them. As with all Web surfing, please exercise caution.


Adot's Notblog
A fellow traveler blogger and astronomy enthusiast!

Astronomy Blog
An astronomy blog pondering the big questions

Astronomy Cast
Astronomy Podcasting from Pamela Gay

BadAstronomy.com
Bad astronomy discussed and debunked along with fun stuff about really good astronomy!

Chris Lintott's Universe
Musings from an Oxford Astronomer.

Cosmic Variance
Random Samplings from a Universe of Ideas.

Dave P's Astronomy blog
Observational Astronomy and other TidBits

European Southern Observatory
Fine Ground-based astronomy images.

Gemini Observatory
Fine astronomy in infrared and visible wavelengths.

Griffith Observatory's page.
I wrote their exhibits!

Observing The Sky
Nightly Observation Reports from dedicated skygazers.

The Official String Theory Web Site. Time to feed your mind!

Pharyngula
Evolution, development, and random biological ejaculations from a godless liberal. Cast off your blinders and come on in!

Science Made Cool
A compendium of discoveries, inventions and commentary.

Slacker Astronomy
Astronomy with a Slacker Twist.

Space Telescope Science Institute
The best from Hubble Space Telescope

The Eternal Golden Braid
Astronomy, Space Science, and Science Fiction Commentary.

The Inoculated Mind
Bills Itself as a weekly science mindcast. Thought-provoking, honest.


Truth.


Unique
The Hairy Museum of Natural History
Defies description. Just go there (yes, it's safe for work).

Olduvai George
Absolutely fantastic natural history illustrations from a master.



News
Shopping, Internet Stuff, and Web Guides
The Blog Search Engine Searching out the Blogoverse.

Blogwise.com
A blogger's listing service

Google
Best search engine

A blogger's listing service



The Truth Laid Bare Listings in the Blogosphere.
Links to My Site